Upcoming Candidate Events
Debate, sponsored by The Day and League of Women Voters
Wednesday, February 20, 6:30pm, Science & Technology Magnet High School
Candidate Forum, sponsored by the Neighborhood Alliance
Friday, February 22, 6:00pm, New London Senior Center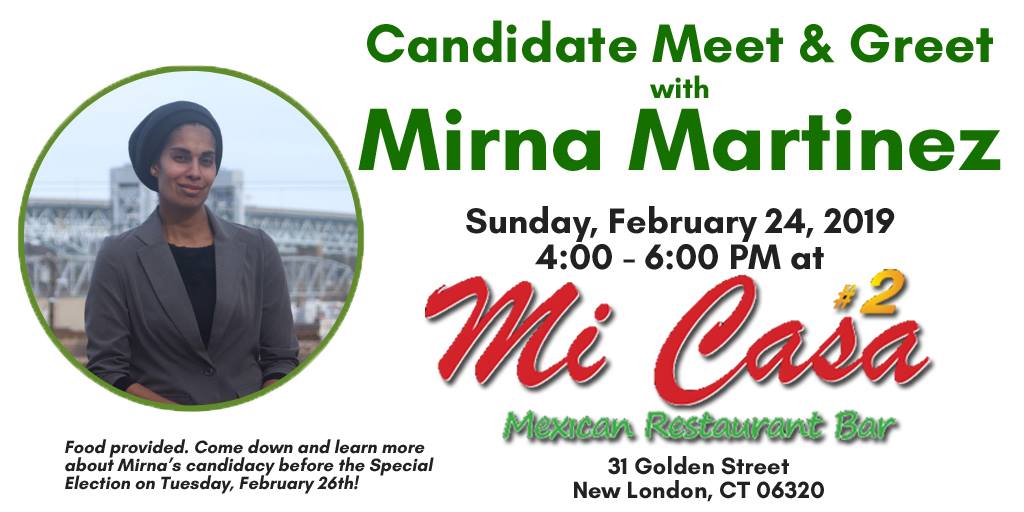 From The Day:
New London Green candidate qualifies for public campaign funding
By Greg Smith, Day Staff Writer
February 13. 2019
The State Elections Enforcement Commission on Wednesday approved the first state public campaign grant to a Green Party candidate in the 12-year-history of the Citizens' Election Program.
Mirna Martinez, a school board member and New London Green Party candidate for the vacant 39th House District seat in New London, qualified for $14,075 in funding. She is the third of four candidates to qualify for funding through the grant program leading up to a Feb. 26 special election.
Democratic candidate Anthony Nolan and Republican candidate Kat Goulart previously qualified for a $21,112 grant through the same program. Democrat Jason Catala, who is running as a petitioning candidate, has indicated he would not seek the grant. The deadline for grant applications was Friday.
All four candidates are seeking to fill a vacancy left by Chris Soto, who resigned to take a job with Gov. Ned Lamont's administration.
The CEP is a voluntary program that allows qualifying candidates to receive public financing in regular and special elections. To qualify, candidates must demonstrate they have what the commission deems "adequate support from the public." In special elections for state representatives, candidates must raise $3,800 in contributions, not to exceed $250 each, from at least 113 individuals residing within their district.
There are several ways for third-party candidates to qualify for the grant, based on past support or petitioning. Martinez qualified for two-thirds of the full grant by collecting signatures equal to votes totaling 15 percent or more of the number of people who voted in the last election. In a statement, Martinez's campaign said she collected more than the 660 signatures needed.  
Third-party candidates who receive less than the full grant amount can continue to raise and spend additional contributions, known as "differential contributions." However, they must meet the criteria for qualifying contributions, which is up to the amount of the full applicable grant for the special election for that office, an SEEC spokesman said.
Martinez was endorsed by the national Our Revolution organization, a group influenced by Bernie Sanders' 2016 presidential campaign, that endorses candidates with progressive agendas.
Mirna Martínez nominated for 39th
At the New London Green Party's Special Meeting on Sunday, January 20, Mirna Martinez was endorsed to run for 39th district State Representative in the upcoming special election.
Mirna is currently serving her third term on the New London Board of Education and was the board president last year. Her campaign committee, Mirna for 39th, is planning to participate in Connecticut's Citizens Election Program (CEP). In order to qualify for public financing, her committee must receive a total of $3,800 in small ($5-250) contributions that include donations from at least 113 New London residents. You can donate securely online, or by check using this form. She wil also need to submit signatures of nearly 1000 district voters in order to receive the full grant, and at least 440 to be eligible for a partial one. To that end, we are sponsoring petition drives over the next two weekends. Contact us if you'd like to help.